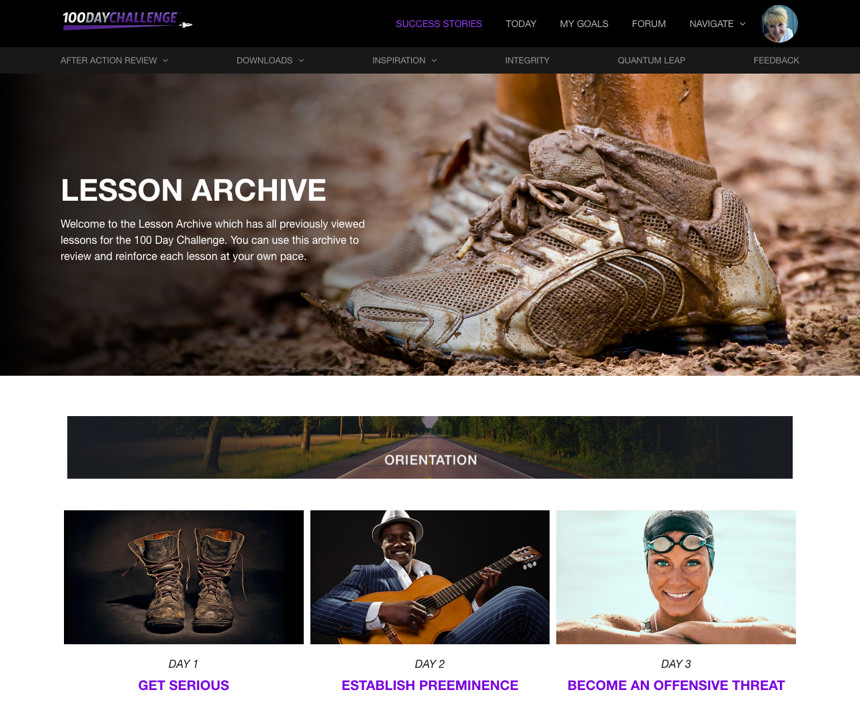 100 POWERFUL VIDEO CHALLENGE LESSONS
The 100 Day Challenge does not mess around. These lessons are direct, intense and actionable...because if you want extreme results...you've got to go to the extreme.
100 POWERFUL MP3 CHALLENGE LESSONS
We want you taking action and winning all day long...and we want you to have easy 24/7 access to reinforce the challenge lesson while you drive, walk, jog or bike.
MASSIVE ACTION PLAN
With this daily implementation plan, we've done all the "heavy lifting" for you. It includes 100 implementation strategies for getting maximum gain with minimum effort.
GOAL SETTING FOR RESULTS
Forget everything you know about goal setting as this crash course is like getting an MBA on what it takes to inspire excellence and drive results—fast.
DAILY REMINDERS
An esthetically beautiful email will great you each day for the next 100 days. It will lead you to your new lesson and strategy for crushing your goals.
PROGRESS JOURNAL
Each day requires a game plan, deadlines and accountability. This daily discipline will keep you focused and progressively moving forward.
COMMUNITY FORUM
Inspire and be inspired by high-performers from all over the world. You'll connect with other members, create friendships and enjoy rich conversations with fellow challengers.
PRIVATE MEMBERSHIP SITE
Once you get your credentials...you'll immediately have access to a private VIP hangout for high achievers. These are people who are making big things happen in the world.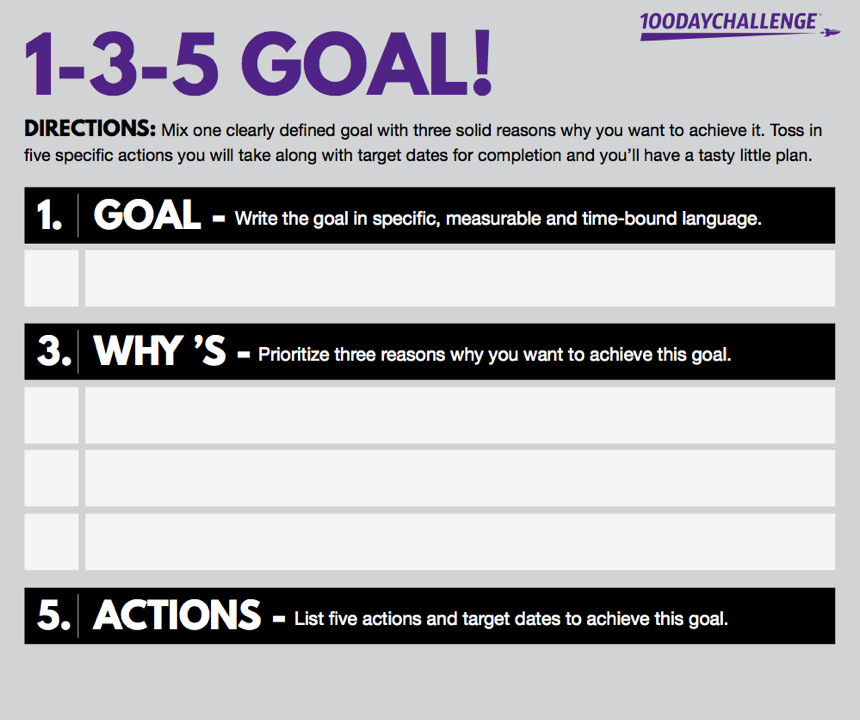 GOAL SETTING FORMS
Your life changes the moment you set and commit to a big challenging goal. These forms will help you navigate your way to a bigger, bolder future.
FORCE MULTIPLIERS
Most people spend their lives playing addition...but the 100 Day Challenge is a game of multiplication. You'll learn proven strategies for making large performance gains.
AFTER ACTION REVIEWS
AAR's are weekly measurement tools aimed squarely at driving a persistent improvement in skill, knowledge, accountability and overall results.
LIVE WEEKLY TRAINING
Free access to a weekly training call led by Gary Ryan Blair. You'll get motivation, coaching and new insights on what it takes to live large.
INSPIRATIONAL WALLPAPER
Make your phone, desktop and tablet come to life with these 100 stunning images and motivational messages...all designed to get your mojo working.
INTEGRITY PLEDGE
The 100 Day Challenge is more than just driving results...it's also about demonstrating excellence, character, integrity, and every noble virtue and best practice.
GOAL SETTING APP
A free resource for getting your daily fix of the 100 Day Challenge. The app provides quick and easy access to the world's best goal setting program.
ACCOUNTABILITY TOOLS
The purpose of setting a goal is to achieve it. We won't let you lose focus and have devised a series of diabolical tools to keep your eye on the prize.
PLUS THESE BONUSES
MANIFESTOS
This is Gary Ryan Blair's vault consisting of white papers, special reports, articles and mind-expanding manifestos. Packed with proven secrets and advanced strategies.
QUANTUM LEAP STRATEGIES
The goal of the 100 Day Challenge is not to just get you to another level...but to an entirely different orbit. You'll learn exactly how to make progress in large jumps.
POWER SURGES
A powerful series of 65 time-released brain bombs that challenge you to step it up and take massive action. Fire them up when you need that blast of motivation. A great value added resource.
RAPID EXECUTION STRATEGIES
It takes one set of skills to acquire a goal...and a much different set to maintain possession over the long haul. You'll wish you learned this strategy much earlier in life.
GET YOUR MOJO WORKING
Your "WHY" is your psychological mojo...it's the motivation, burning desire, and passionate fire that gets you to take action on your goals. This will ignite an inferno of heat and unleash your greatness.